We'll start with a couple of flowering apple trees and move on to pictures that are mostly of interest just to me to document where the various trees are right now.
MacIntosh apple tree in bloom: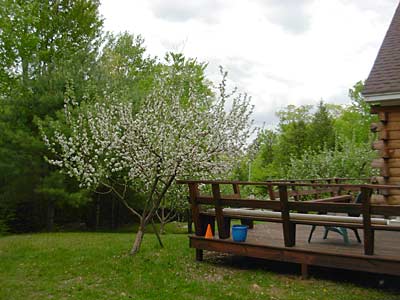 Crabapple tree in bloom: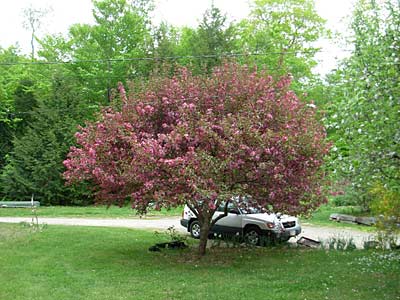 The bees were buzzing around all of the apple trees, but especially the crab. Good. Go, tree. Go bees. Let's have lots of crabapples to feed the grouse and attract any pine grosbeaks that may come around next winter.
Various blueberries are blooming. Arlene bought two small blueberry bushes which we put in along the rear edge of the lawn behind the house. There are other cultivated blueberry bushes farther back which we put in two years ago that aren't doing much. Last summer I made an effort to cut back trees shading the most productive patches of wild blueberries, and this weekend I went out on the trails and spread some Holly Tone fertilizer, special for acid loving plants including blueberries, around the wild blueberry patches. Maybe it will help, unless they take the fertilizer as an affront to their essential wildness.
At the same time we put in the blueberries two years ago, we put in some grape vines. Five of eight have survived, but only two or three are thriving. We put in two more, bigger, this weekend. Somewhere here is one of the old ones.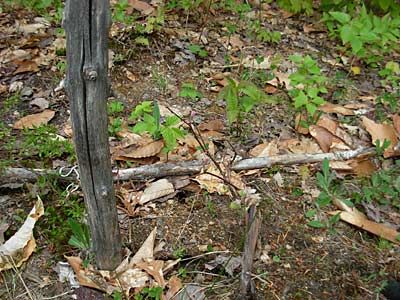 Don't expect grape jelly from my grapes this year, nor next year. Maybe the year after?
The pear trees from last year are a mixed bag. The Bartlett is doing great: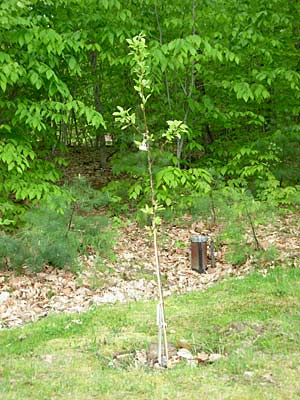 The Bosc is also in fine shape: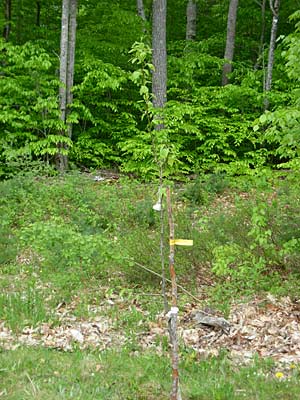 The seckel pear, the one I really want to produce because I like those the best to eat, survived its burial in the snowbank and has new growth: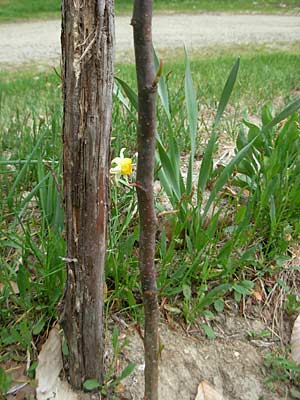 The new pear tree, Eagletree by name, Colette by variety, has some growth: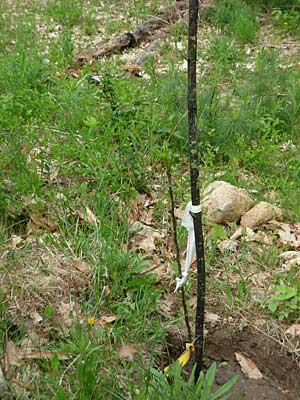 The red anjou pear, the fourth of the ones I put in last year, took a terrible pounding from the snow. Arlene says she can see buds on it, but I'm not positive. I'll keep an eye on it.
The rhubarb here in Casco is doing well, but there's not enough to pick for pie this year. What stalks there are look nice and red: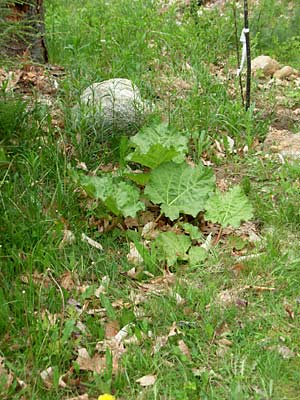 The walnut trees have some signs of leaves. In fact, this evening this one was considerably more open than when I took the picture earlier in the weekend. If you think it's hard to find the walnut tree against the background, you're right. How do you think it is tracking down the six of them out there where they're planted? I cut down vegetation around all of them, partly along the lines of weeding and giving them room to grow, but also to make it easier to find them.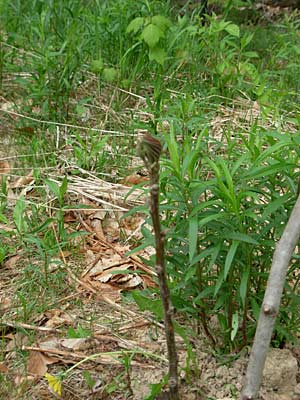 Oh, and the new Gala apple seems to have taken and is putting out some leaves.