Over the long weekend, besides planting blueberries and grapes, taking apart that broken table on the deck, seeing Indiana Jones and Ironman, and doing a little fishing, I did a mini wood turning from some of that maple I picked up from the curb in Newton. I was very pleasantly surprised at how nicely the bark worked as well as how good the real wood looked. I'm considering the result a weed pot. Here you go —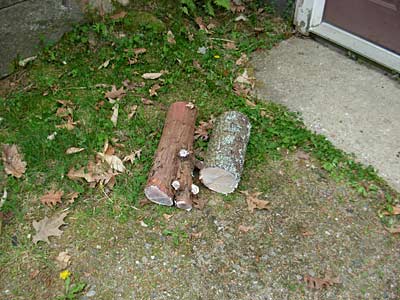 There on the ground are the two big chunks of wood I was talking about a few days ago. I've painted the ends with a wax coating called Anchorseal which is supposed to help the wood dry slowly so it doesn't crack.
Meanwhile, I cut off the broken end of the maple log and cut part of it off to turn. Half of the broken end is still just raw wood which I may or may not do anything with, and the weed pot, finished with walnut oil straight off the grocery store shelf, is next to it. I was surprised at how well the wood worked and sanded without any particular drying time. The grain is nice and fine. Now, of course, so is beech, and there's lots and lots of it in our woods.