We didn't really get as early a start as we had hoped, but we set off today to see some of the Maine Pottery Tour, sort of a statewide open studio event for potters and ceramic artists. Part of the goal was just to visit one of the potters, a former Newton art teacher who is still a good friend of Arlene's.
We got on the Maine Turnpike in Auburn and headed north, planning to start with the farthest from home of several pottery tour venues that we had selected, all more or less in the Augusta area.
Our first stop from home was the West Gardiner rest area of the turnpike, because it's far enough to be a logical pit stop and because it has a tourist information desk. The info desk is inside a beautiful store selling Maine-made crafts which are always fun to look at, but we kept focused and just got directions to our first pottery stop, Maple Lane Farm in Windsor, near the fairgrounds that the Maine Fiber Frolic had been at years ago, a dozen miles east of downtown Augusta.
The first thing I noticed was that the woman who greeted us was wearing a mask that looked just like some of the designs on her pottery! She told us that it was indeed a custom fabric from Spoonflower — maybe I want to design some fabric! The space in the top of that barn is not a workshop or studio but a big showroom, with a table set with plates and cups that she made, and lots of display shelves showing the wares, which include handmade knick knacks and postcards as well as plates, bowls, mugs, spoon rests, sponge rests, garlic graters…
From there we went to Whitefield Pottery, a much different feel — a tent (or pop-up crafts show canopy) over a table of embarassingly affordable "seconds" that we couldn't see anything wrong with, and a couple more tables set up outdoors and in a small workspace with an electric potters wheel and a kiln. Here's the top of the kiln and some typical pieces of hers: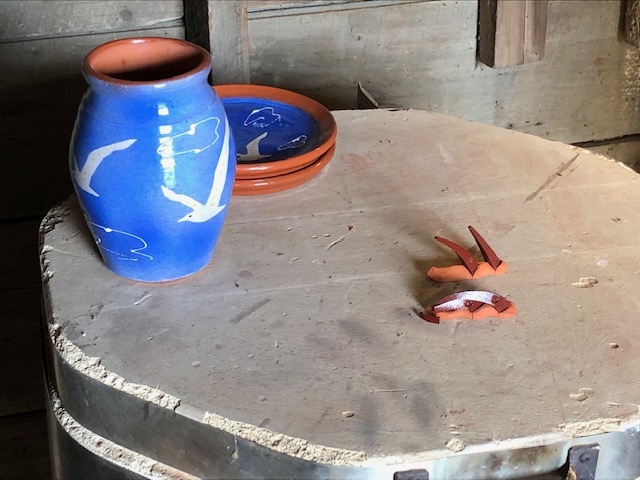 If you haven't done pottery, you may be wondering about those tall pyramid thingys in the front foreground. Those are called pyrometric cones. If you think pyro = fire, metric = measuring something you're right. When you fire a kiln, you need to get it hot enough to turn the clay into pottery, otherwise it will just turn back into mud when it gets wet. That means hot enough that the microscopic particles of clay start to melt into each other. But get it too hot, and the whole piece will melt into a lump of dirty glass. So ceramists have developed a series of materials that melt at different temperatures. Those lumps of clay holding the pyramids are holding two cones, one of which will start to bend over at the temperature that is right for the particular kind of clay the potter is using at the time. The two cones in the foreground look as though they may have been overfired. The potter looks (with proper eye protection!) through a peephole into the hot kiln every so often to check the cones to know when the firing is complete. Many modern electric kilns have electronic temperature sensors and automatic temperature control.
I got a mug with a heron or egret design on it and we got a cup to keep toothbrushes in. We talked for a while with the artist about why she had put the pots which looked beautiful to us on the "seconds" table, and about a big tree behind the house which had recently been cut down.
Heading back into Augusta we stopped at a place we had been to on the pottery tour three years ago, Fine Mess Pottery. I remembered this studio distinctly, with an old bicycle mounted for decoration above the door to the kiln shed. I think we have three little (I mean, four inch high!) vases from her in Newton. This year she had a seconds table with pots that looked good to us for $5.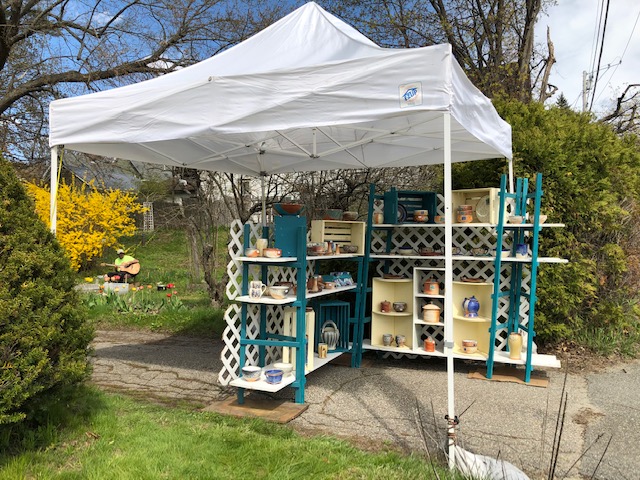 Last stop was Arlene's friend Marie's Red Door Pottery in Augusta. Marie used to be an art teacher in Newton. She let us stay in her condo in Old Port, Portland ME, for a week once in the mid-90s and again later, at which time she was living near a lake north of Bangor. We drove out to visit her there and stayed overnight because our car broke down on the way, we got there much later than we expected, and we didn't want to drive back and maybe get stuck on the way back in the middle of the night. A memorable part of that trip was watching someone else who lived on that lake fire his potato cannon over the water — it was a homemade device made of PVC pipe that he would push into a potato to make a tight-fitting plug, shoot some butane into, and create a spark inside; the explosion would propel the potato piece hundreds of yards out over the lake. But I digress. Those stays in Marie's condo were really the start of our loving Maine (and certainly of knowing our way around that part of Portland.) On our way home from the Nature Printing Society workshop at College of the Atlantic in Bar Harbor in 2007 we visited Marie on Deer Isle, not far from the Haystack Mountain School of Crafts, where she was then living. We last saw her three years ago in Augusta when she was participating in the pottery tour.