I didn't take as many pictures of the Mushers Bowl myself yesterday as I did last year. I think that two years ago there were no dog sled races because of lack of snow. Last year the races were postponed from the original date until sometime in February because of lack of snow. This year there was plenty of snow by this time, as you might have noticed from some previous posts, and the dog sled races went off right on time.
Probably because things were on schedule, there were more cars parked in the lot than last year — in fact, it was full. We had to drive a couple hundred yards down the road, make a k-turn, and park along the road coming back towards the event. Walking toward the races, we passed the horse-drawn wagon ride: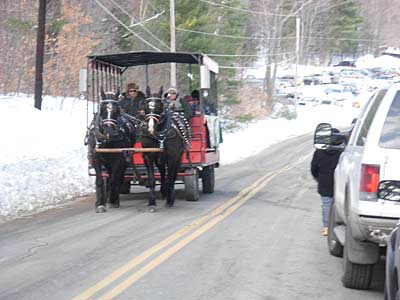 Since this event last year was our only previous exposure to dog sled racing, it was still interesting to see the dog teams and how they had traveled (mostly in kennel cages built to fit in the back of pickup trucks, eight to ten cages to a truck) — this isn't one of them, just lots of dogs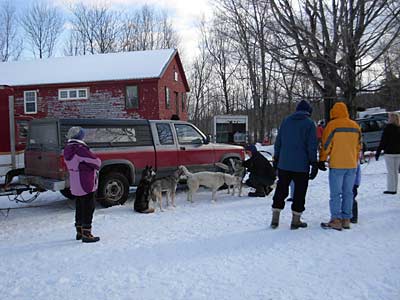 Besides snowmobiles, ATVs with snow treads were much in evidence. Five Fields Farm, which is the host venue for the races, is also a cross-country skiing place and it must use these to groom ski trails (which for all I know are the same trails as the race is held on). The port-a-potties look COLD!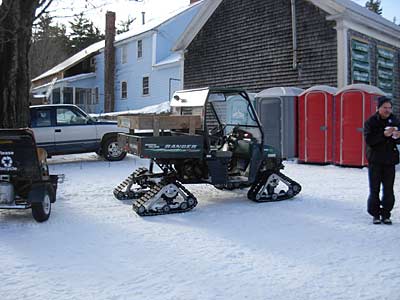 Here's a close up of a dog sled. They're very light and graceful looking.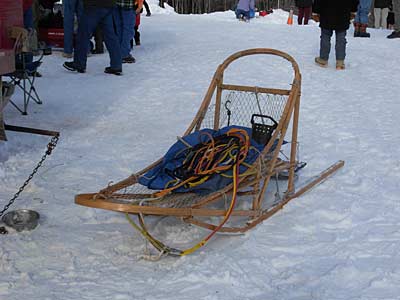 They were selling T-shirts and caps as souveniers of the event. See those pallets to the left of the picture? You'll see more of them in a minute —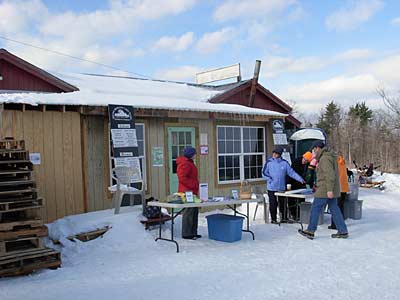 … as fuel. A nice big fire was going so you could warm up every so often. It's really not unpleasant being outdoors for an hour or so when the temperature is in the 20s if you dress warmly, stay out of the wind, and thaw out your fingers now and then.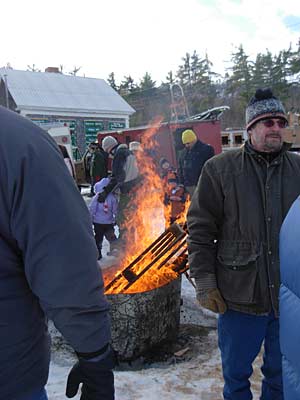 Besides dog sleds, this was a good place to see snowshoes of all different vintages and of course lots of knit hats, mittens, and sweaters.