There was a big snowstorm predicted for Friday, continuing into Saturday for Maine. We decided not to drive up on Friday, and were settling into a Saturday in Newton. Anne and Matt had planned to take Monday off and make a three-day weekend of it. They phoned (several times) and when they got to Casco reported that the roads were OK and the weather wasn't bad. We decided that if we left by early afternoon we could get there in daylight, before the melting snow iced over again, and that with them staying Monday we could leave later on Sunday than we usually do and wouldn't have to turn off the water and spend lots of the afternoon cleaning. So the more impulsive heads prevailed and we ended up in Maine on Saturday evening after all. Anne and Matt had brought their new dog, Dozer. I neglected to bring my camera, so the only pictures today are from Matt.
We went for a good walk on snowshoes on Sunday morning. I was working on the lathe baseplate in the afternoon while the other three and Dozer went for a walk down the road along the lake. Matt came back, somewhat out of breath, and said, "Want to see a pileated? Start the car and go down to the other end of the association road!" I didn't expect the bird to be there when I got there, but it was amazingly cooperative. We watched while it did more woodworking than I had been doing with power tools — well, more pound for pound, anyway.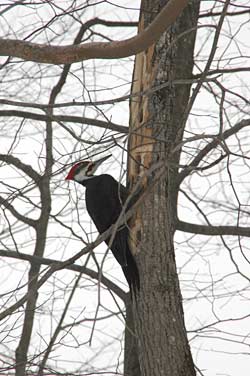 Um, if you don't know, this is a real treat for birders. These birds are normally shy. They're so big, the size of a crow, and so distinctive with white patches on their wings (when they're flying), that you know you've seen one if you get a brief glimpse of one at a distance. Normally that's all the look you do get of one, and if it happens once in three or five years in eastern Massachusetts you consider yourself lucky. This one kept chopping away at that hole in the tree and let us watch how it worked, picking up the big chips of wood and tossing them over its shoulder on the back stroke.
We didn't see the next animal. Anne and Matt saw it on Saturday before we got there, and then on Monday when we were no longer there. They said they probably wouldn't have spotted it themselves, but Dozer noticed it. We think it's a mink.