On Wednesday (June 16? two weeks ago already?) we took our long day trip of the visit, up to Grand Teton National Park. To get there, you drive 50 miles up I-15 to Idaho Falls, east to Swan Valley, north to Victor, over the Victor Grade to Jackson, and then to the park.
On the way to Idaho Falls there's a highway rest area with trails around a lava flow called Hell's Half Acre. It's a lot more than half an acre. We've walked there before but it's always worth a stop.
We saw a rabbit among the lava (just below and to the left of center here)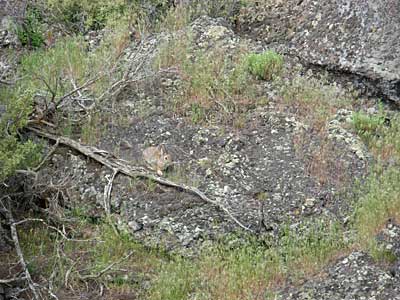 — and now go back and find the rabbit in the first lava picture up there! — and also a rock wren.
There was lots of construction on the road east of Idaho Falls, so it took longer than we expected to get through the farming area to the scenic part. East of Ririe, though, the road was empty and fast. It was the kind of road you see in car commercials. I mean, car commercials never show the kind of driving you really spend your time doing, with traffic and city streets and construction and congestion; they show you fantasy driving where the speed limit is probably faster than you want to drive around all those curves, with beautiful scenery beyond. But those roads do exist, and we were on one of them near Swan Valley. I don't have a picture of the road itself, but I stopped to photograph some of the scenery: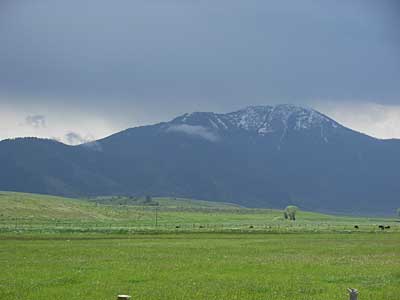 We stopped for lunch at Timberline Bar & Grill in Victor,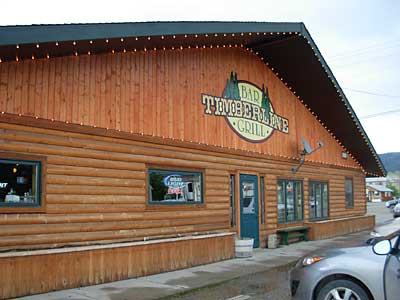 I don't really think the Timberline deserves a photo just in and of itself. Partly to give you a better idea of the trip, but more because it's such a contrast with Bob's Clam Shack in Kittery where we had lunch a few days later. The menu said that their chef was soon to be famous for his chili. I had a bowl of it and I'm here to say, I'll hereby do my part to make the chef famous for it.
The last time we drove over the Victor Grade, that is, the road over the mountain pass between Victor and Jackson, we walked on a beautiful trail at a lookout area at the top of the pass. We were hoping to be able to do that again, but the weather didn't cooperate. It was raining on the way up the grade, and it turned into a hailstorm by the time we got to the pass. It rained and hailed intermittently on the say down, and finally on the outskirts of Jackson the road had a good sprinkling of marble-sized hailstones.
We say three kinds of uncommon ducks, shoveler, gadwall, and cinnamon teal in the water by the Jackson Hole/Yellowstone Area visitors center, where a woman looked at me and said, "Your mom lives in Pocatello!" She had met us at a party a couple of years ago. I know mom knows everyone in Idaho, but I didn't realize they know me too.
We drove up the main park road. At the first turnout we saw a young Chinese couple taking pictures of each other in front of the mountains, so I asked if they wanted me to take a picture of the two of them together. They did, and then they took a picture of us together: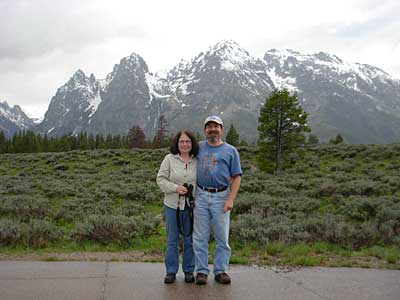 There were lots of wildflowers at the Cascade Canyon turnout.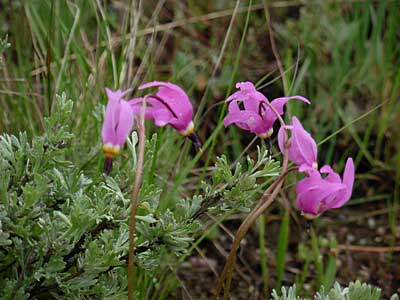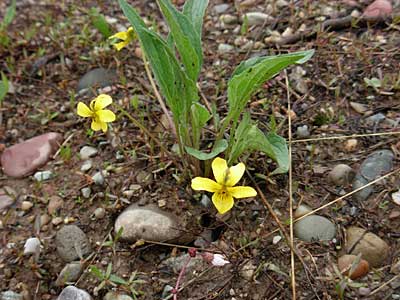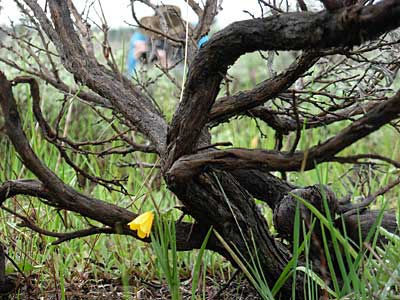 I didn't notice when I took that photo, but there was another park visitor around at the time taking flower pictures the right way. He's in the background above. The funny thing is that he turned out to live in the next town over in Massachusetts.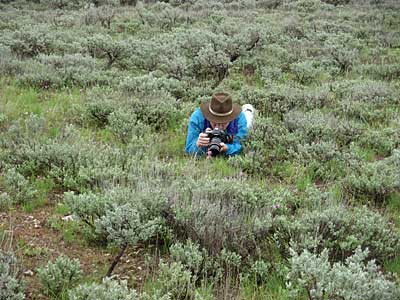 The weather continued rainy so we didn't walk much. We stopped for supper at the Super Chinese Buffet in Idaho Falls and got back to Pocatello a little after dark.