On our way home from the FIber Frolic Arlene spotted a sign for a Reny's store. We've been in the Reny's in Bridgton many times, but never in any other of their stores, so she was curious to see another. We turned left, and there was downtown Gardiner, with a beautiful main street of brick stores that looked as though they had all been cleaned up sometime in the last 20 years.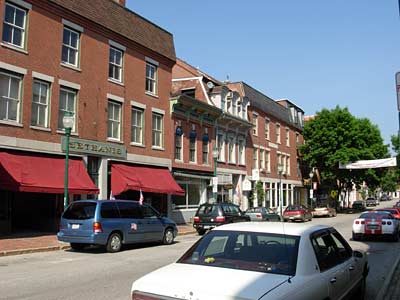 There were galleries and gift shops, but nothing (except Reny's) was open on a beautiful June Saturday afternoon. Maybe in a couple more weeks when the tourist season is really under way.
The library building was particularly nice.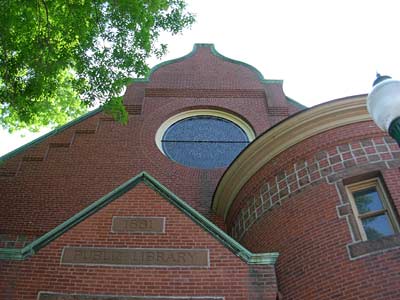 We couldn't find much on line to explain when Gardiner revitalized its downtown. At least I imagine that's what it did, because it's rare for small cities in New England to have stayed like this through the '40s to '60s. We did find an article about a big fire there in 1882. I suspect that people who knew the town's history would have told us, "See that marker that says '1882'? That was the first thing they put up when they rebuilt the town after the fire." The city seems to have been a lumber milling center in the late 19th century. It's the head of navigation on its river — I think that's the Kennebec — so it's a natural location for processing logs that have been driven down the river into lumber for shipment by ocean going vessels.