Usually Maine Maple Sunday is the third Sunday in March. This year that's Easter, so a lot of sugaring operations had their open house yesterday.
We went to a pancake breakfast at the Crescent Lake Community Center in Webbs Mills. My pancake was cooked really nicely — just done, not overdone — but there were only three griddles going at the whole place, not enough to keep up with the crowd. We gave up hope for getting seconds and went over to Sweet William's.
It was much as we remembered from two years ago.
A crowd around the sugar house. The evaporator is going full blast. That cloud of steam is why you don't make maple syrup in your kitchen, and why we decided not to try tapping our trees this spring. That, and the fact that we're not around all the time to empty sap buckets. There were delicious free samples of ice cream with maple syrup and maple baked beans.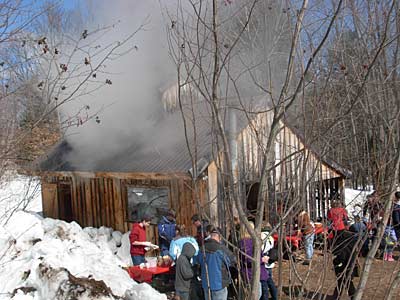 The Sweet William operation was selling maple goodies at this table. We got syrup, maple butter for us and for gifts, and one big maple sugar leaf candy for a gift. We passed up the maple popcorn.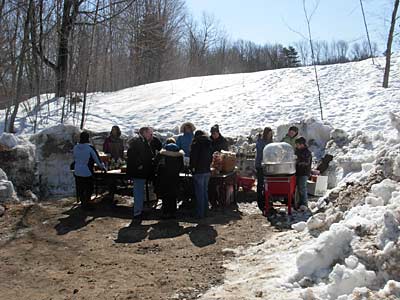 Here's the display of tapping supplies, from an old metal tap and bucket to modern plastic tubing fittings.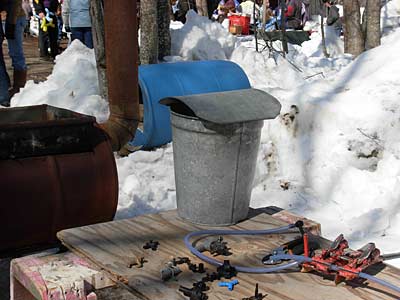 … and some trees with tubing leading from their taps to the main line of the collection network.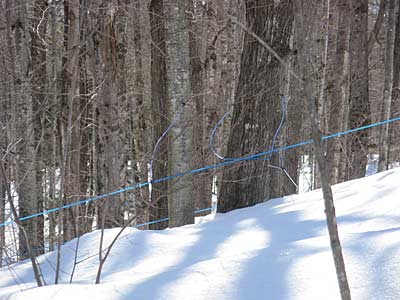 We passed up the tour of the sugaring operation this year because we thought we remembered enough from two years ago.