On Saturday we went for a hike on the other side of Bridgton. There's a lot of construction going on in Bridgton this year. Everyone we spoke with was excited about the new Hannaford's supermarket that opened a year and a half ago, and the big Hancock Lumber yard that opened was welcome, but both of those were highway sorts of businesses, not downtown. The current construction is downtown: rebuilding the Magic Lantern cinema, and expanding Reny's department store. Both of those should help keep business in town and encourage foot traffic to the rest of the stores in town. We hadn't been in Bridgton for a while, and the progress on both of those buildings was impressive. We went into Reny's while we were there. I got a new pair of jeans, because the ones I had been wearing were turning into rags. I mean, one patch on a knee is New England thriftiness, but two holes on the other leg is turning into rags.
We went over to Denmark to find the trail up Pleasant Mountain that the Loon Echo Land Trust was so excited about having preserved. It's off Mountain Road, off Hio Ridge Road. There was a small parking area on the opposite side of the road from this trailhead: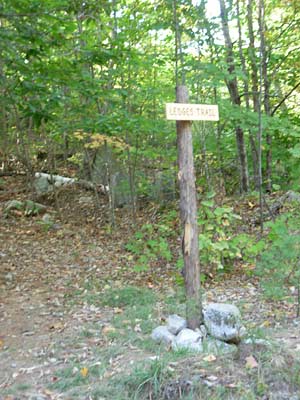 It was a good clearly marked trail, with blue dots painted on rocks near the bottom and blue rectangles painted on trees farther along. A couple of hundred yards along the trail here was a little kiosk with a big map of the trails on a bulletin board and a pocket of trail maps that you could take. We had left one in the car, so I took one and returned it when we came back. We met several parties of people walking down the mountain as we were climbing. Somewhere along the way was this cleft rock —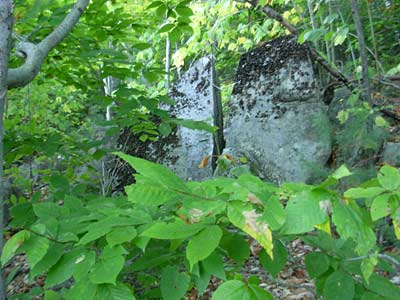 …and up as far as we went, about 1.1 miles that took us about 50 minutes to walk, was a wooden grave marker —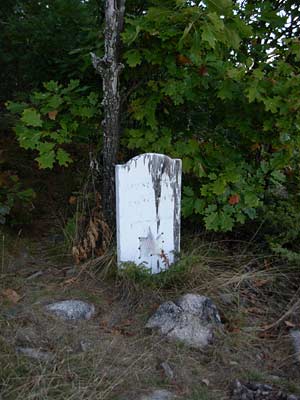 … and a magnificent view over Moose Pond.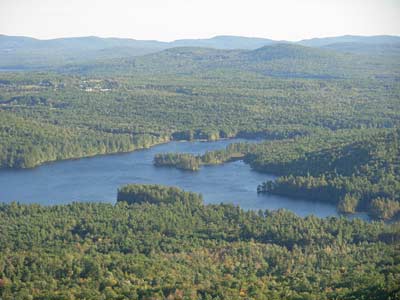 We were a little disappointed that the foliage wasn't prettier. A lot of the woods are conifers here.
On our way back we ran into one group of people who were walking up to watch the sunset from the top. They're more comfortable hiking in the dark than we are! We were beginning to be concerned about getting back before dark.