Maybe I haven't ever blogged about the sweater I'm making currently. It's mostly wool I got at the Maine Fiber Frolic last year, and what I didn't get AT the frolic I got by mail order from someone I met at the frolic — that's four 250-yard skeins of natural dark brown and two skeins of light tan Coopworth lambs wool from Ruit Farms and two skeins of white and one of silver tan from Hatchtown Farm, kind of sport or DK weight.
I'm working partly from a pattern from the Garnstudio web site, for the measurements and shaping, and partly from Knitting in the Old Way pp 164-166, for the Fair Isle charts. I think I started it just about the beginning of February — after I finished Matt's sweater, at any rate.
I started out thinking I'd follow the Garnstudio pattern, but decided I didn't have the right proportions of different color yarns for it. Then I thought I'd follow that pattern's construction directions, at least, but when it came to knitting Fair Isle coming back I decided I couldn't stand that, and I'd do it in the round, at least up to the armscyes. In this picture, from the weekend of the 24th, I was getting close to them.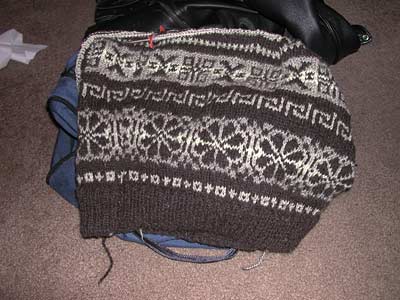 By now I'm all the way up to the armscyes, which means doing front and back separately and back-and-forth. Rather than do color work on the purl side, I'm knitting backwards with a Clover strickfingerhut (yarn guide, but I like the way it sounds in German there. Shout out to Judy! That may be the only thing I bought at Circles.) on my right hand. Sort of knitting backwards Continental style. It's a lot faster than I was going when I was trying to knit backwards with one color in each hand.
I really want to get this thing done while it's sweater weather, or at least to have to wear to this year's frolic if it's cool enough, to show the people who grew the sheep. Stay tuned. This picture is a week out of date, and there's another wide pattern band done by now. Still a long way to go on the front and back, but I'm going way faster on this than my first sweater or on Matt's.