We were up in Maine the weekend of Jan 20. I was feeling kind of crummy with a bad chest cold. It took me until almost noon on Sunday to feel that I was having a good time, and by then it was almost time to come back to Newton.
On Saturday we went to Bridgton for the winter carnival weekend. It wasn't really cold, but there was enough wind that it did feel chilly walking around. We went to the crafts sale at the community center. We had some good soup at the cafe there, run to benefit the senior transportation program. There wasn't as much to see as at the craft sale last year. I don't think we got anything there except for the soup.
We went over to the town historical museum. The exhibits have changed since we were there last winter carnival. There was a big exhibit about the town band. A young woman docent told us that her grandfather (or was it great-grand? well..) was one of the founders of the band, and that they still have his baritone horn but no mouthpiece for it. Maybe next time I'm at Rayburn's I'll find something in that bucket of used mouthpieces.
Here's the, I think Methodist, church in downtown Bridgton from the street coming back from the museum: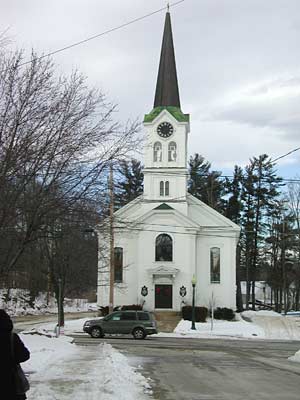 Back home we worked on an old springbok puzzle, a Dali painting done on commission for Springbok probably back in the '60s, something like Burghers of Calais, but I don't remember the name. It turned out to be surprisingly easy, Unfortunately we're missing one piece from it, but that didn't spoil the fun. Here it goes back in the box: