We were in Maine last weekend (Jan 13-14) with Charley, Nicole, and Emma. There was a dusting of snow on Sunday morning.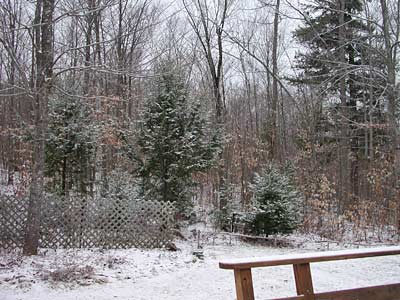 Arlene and I walked around our trails, I put up two signposts at the junction of the Blueberry trail and the Rock-to-Rock trail,
and we all put together something that Charley had given us, a sort of color mixing puzzle that's sixty-four cubes of different colors, that's designed to go together to demonstrate a color solid. The colors must not be that precisely mixed, because many of the jumps aren't at all uniform — that is, there's a biggish jump between two little blocks, and then the next two are very close together. Emma was very good at finding the next color to go in sequence. I cheated by looking at the numbers on each cube, but most of the time the one Emma handed me was the right one to go next.
We call that the rock-to-rock trail because when we were cutting it we sort of kept saying, "Let's go to that rock over there next." There are rocks all over the property, this being northern New England. Some of them are pretty substantial, like this one.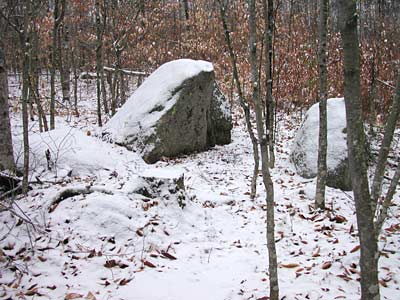 It's not half-dome in Yosemite (but now that you mention it, I think that's what we'll nickname it), but look where it comes up to on Arlene: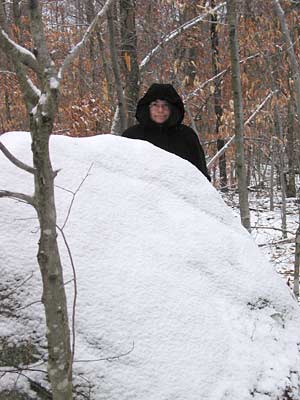 I swam on Monday, Tuesday, and Wednesday, 28, 32 (or more likely 34 — I thought maybe I lost count at the end and did two more just to be sure I got in a good 32) and 32 lengths. Thursday I had to get to work early so I didn't swim, and Friday I had too much of a cough to want to assault my lungs with all that chlorine. Just an excuse for laziness? I'm never sure.