Maybe you remember, from our trip to Orono, that we (especially Arlene) are into baskets. Well. There's a long tradition of basketry on the Georgia and South Carolina Sea Islands. Arlene has heard about it for years from one of her art teacher colleagues who lived in Charleston. She was hoping to see some Gullah basketmakers at the big market area (a little — OK, a lot — like Quincy Market in Boston), and indeed there were a couple; but the guide books all said that basketmakers set up their stalls along route 17 in Mount Pleasant, north of Charleston. There's a highway around Charleston that runs into route 17 somewhere in Mount Pleasant. I wasn't sure if the basketry would be north or south of that intersection, but north seemed a better bet so I crossed my fingers and drove that way.
I don't know if there are more on the other side of the intersection, but we did find basket stalls the way we were going. Here's Joel watching; I don't know if Ethel or Celestine Ravenel is working here: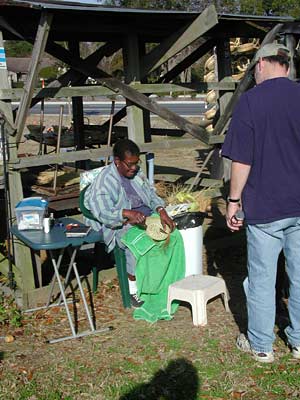 … and then this is Celestine or Ethel, who we did buy some baskets from.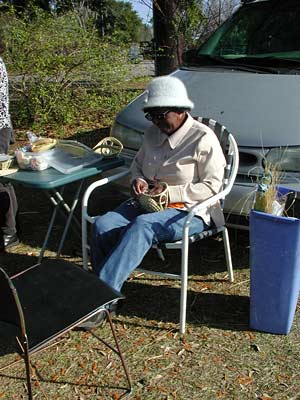 Arlene had read something about one basketmaker, Vera Manigault, who is dyeing some of the materials and producing baskets with different colors. She was at the third place we stopped to look. If you google her you'll see that she does workshops all over. She explained to me all about the difference between left-handed and right-handed basket sewing; the spiral goes in the opposite direction because of how the weaver holds it all.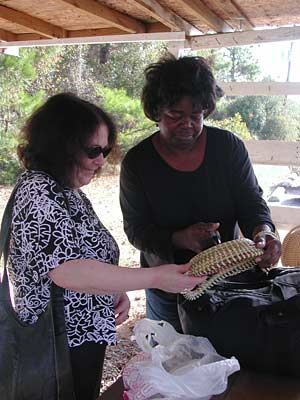 We continued along US 17 to Boone Hall plantation, a major tourist trap. It's a huge place, one of several former plantations in the Charleston area that are trying to make a living off tourism. Unlike most of the others, Boone Hall is still a working farm. Besides tours it has pick-your-own fruits and vegetables in season, a corn maze, and so on. Once upon a time Boone Hall was the biggest pecan growing operation in the country (world?). There are still lots of pecan trees, but they're no longer the main cash crop.
For fiber people, here are a couple of pictures of cotton. Boone Hall doesn't raise cotton as a crop, but does plant a small patch just so visitors can see how it grows.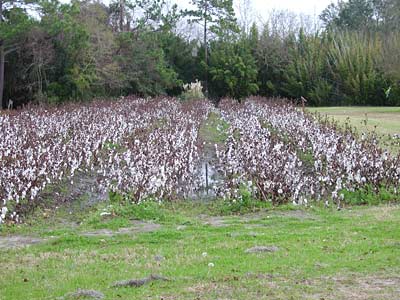 Of course, on a 4000 acre property "a small patch" is as big as a Newton house lot.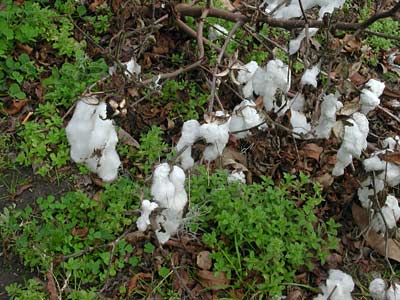 There's a whole lot to see at Boone Hall. Besides the real tourist trap things, we saw two pileated woodpeckers flying over.
There was a tour of the big house. We asked the guide for recommendations for restaurants in the area. She said, "well, downtown, my favorite place is Jestine's Kitchen." Hah! we did right by ourselves the previous evening. She also told us about a place called The Mustard Seed there in Mount Pleasant, where we did end up going. It was excellent, more like modern city cuisine than regional cooking, with very reasonable prices.
Here are Arlene and Millie walking around the gardens of the place. Although it's not barren like winter in New England, nothing was in bloom.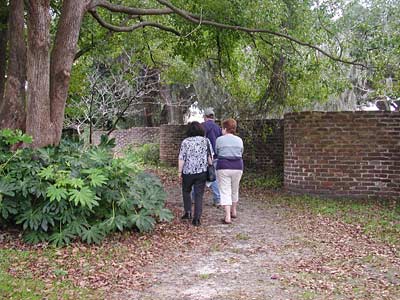 This round building is the smokehouse. It looks small from here, but it's big enough inside to hold lots of hams and sides of bacon.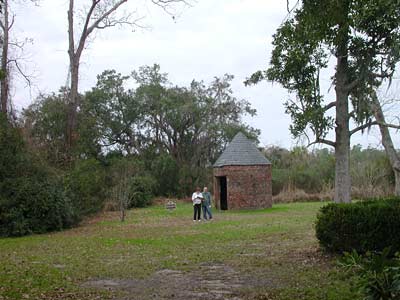 The big entrance drive is just for decoration. Some of the live oaks were planted in the early 1700s.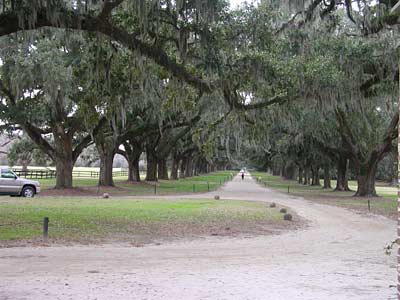 This was a presentation about Gullah culture, given by a woman named Sharon who has studied acting and really knows what she is doing. She told a story all in Gullah, and almost all I could understand was "binyuh" and "kumhyuh." And of course I wouldn't have understood that if we hadn't been on the bus tour two days before. Here she's demonstrating one of the steps in threshing, winnowing, cleaning, and polishing rice. That's one of the brick slave quarters buildings.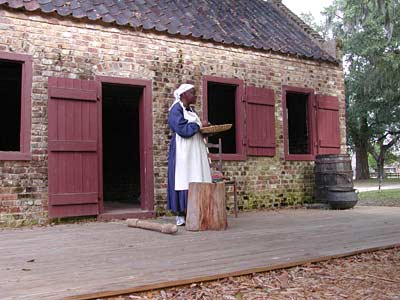 As the end of her presentation, Sharon taught a Sea Islands childrens' call and response game and got eight volunteers (Arlene volunteered herself and me) from the audience up on the threshing floor to play.
Millie was amused by this Carolina Anole climbing up her leg.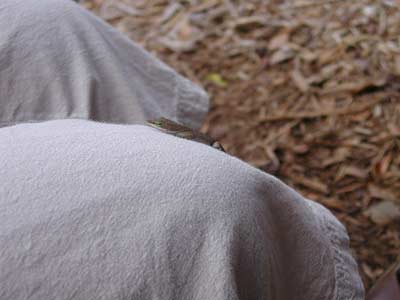 This is the old cotton dock. A boat from here was the way to get to Charleston, especially if you were ready to row for eight or nine hours.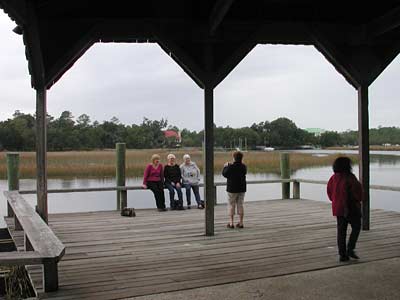 We didn't have to row to Charleston. We just got in the car, drove to the Mustard Seed, found that they weren't opening for another half hour, drove down to an old fort on Sullivan's Island, came back, and had a delicious dinner.