Who'da thunk it, I finished something. Here's the cabled hat made from Bartlett Mills 2-ply fisherman yarn, Sandstone color, that I got at Naturally Fuzzy Yarns in Harrison ME.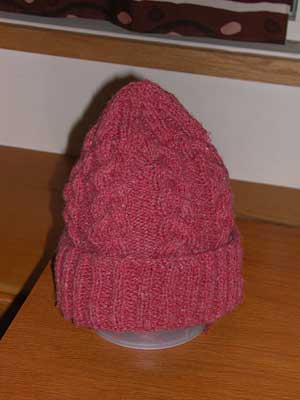 The secret of this hat is that inside the cuff is a band of super-soft Jo Sharp Silk Road Aran Tweed wool-silk-cashmere yarn. Look at that, I googled the yarn and found that the company is showing it in a hat with cables. Also, from the URL it looks as if the price includes a boat ticket from Australia for the yarn. I bought 2 50-gram balls of that stuff a couple of months ago and made one hat mostly with it except for the cuff of Bartlett Mills fisherman yarn that I had left over from last year's sweater project. I loved the feel, but the stitch definition was blah. The Bartlett yarn has good stitch definition but is definitely more scratchy. I had enough of the Jo Sharp left over for a band over the ears. Here's the hat with the cuff folded down —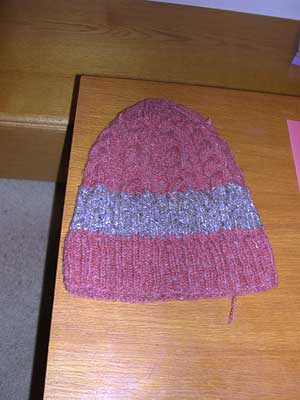 On the first hat I did cables all the way to the top, decreasing the width of the cables near the top. On this one I stopped the cables and just decreased ribbing when it was time to decrease. This is a little higher than it needs to be — I didn't want to have to tug it down over my ears, but if I had started decreasing one cable crossing sooner it would have been better.