This couldn't pose as a part-time knitblog without pictures of what I got at the Maine Fiber Frolic, could it? Here goes.
A kit to make felted juggling balls, from One Lupine Fiber Arts of Orono, ME. I told Jodi I was a card-carrying member of the International Juggler's Association, but I couldn't find the membership card, so maybe I'm not.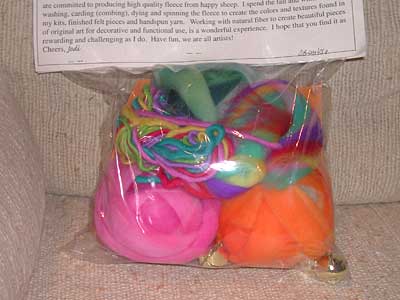 A kit to make "Oh-Wow" mittens, from Miller Farm, Livermore ME. When I saw the (70-something? 80-something?) designer/vendor knitting on a pair of them, I thought at first they were thrummed mittens. No, they're combed merino top knit in with worsted weight yarn, *3 st worsted, 1 st roving* repeat across, finish 1 st worsted on round 1, then 1 worsted, *1 roving, 3 worsted* repeat across row 2, etc. Well, more or less. There are detailed directions, including ordering info for the merino top and yarn substitution suggestions if you're working from directions instead of the kit. I expect these to be WARM mittens!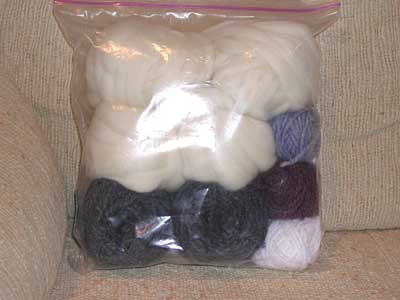 Two 100g balls of sock yarn, 1 ball makes 1 pair of socks, Lana Grossa Meilenweit colortweed 80% wool 20% polyamide, colors 706 and 1001 — oh wait! color 1001 is the Meilenweit, color 706 is Mega Boots Stretch 70% wool, 23% polyamide, 7% Elite (PBT), from Purple Fleece, Stockton Springs ME. Oops! She had a little adventure with me. I gave her my Discover card, and early Monday morning I got a phone call from her — she couldn't put the card through, because it seems she doesn't take Discover. I gave her a Mastercard number on the phone and all is well.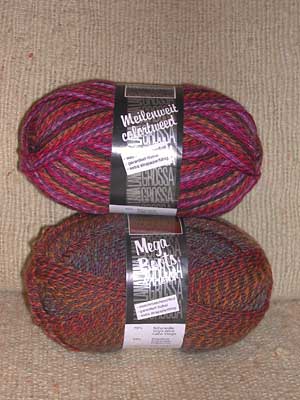 1500 yards of wool for a sweater, 4 250 yd skeins dark brown, 2 skeins light tan, from Ruit Farm North, Bristol ME. This is from Coopworth sheep, maybe a little lighter weight than worsted. It feels great on the hank and is a multi-sensory experience, with lots of lanolin smell left in it. Nina says to wash it in dishwashing detergent before winding into balls. Frankly? I'd like some more yarn like this in other colors — say a real black or white and medium-dark grey, and do a pattern like Charley's lopi sweater. Nina sent me to another vendor, Hatchtown Farm, who gets their yarn processed and spun by the same mill, so it should be a good match, but Hatchtown hadn't brought any yarn to the event. I'll see what I can do by internet and mail from them. If that silvery grey on their web page is a fair representation, and really the same weight, I want some of it. I'll have lots left over but I can figure out something to do with it, I bet.