The weekend of April 7 Anne and Matt were in Casco with us. On Sunday we drove up to Norway to check out a clearance sale at a furniture place. We went up the continuation of Mayberry Hill Road to where it hits 121 north of Pleasant Lake and drove up Bell Hill to show Matt and Anne the view from the top — that's the White Mountains in the background, I'm pretty sure —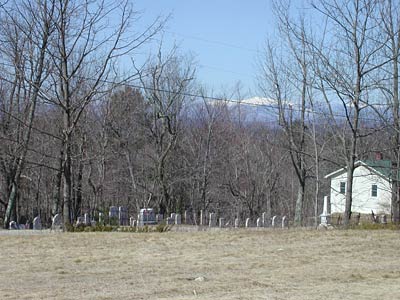 — and the Bell Hill Meeting House that's right across the street from that view.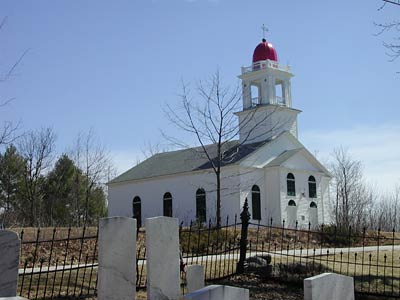 The map showed Bell Hill Road as being cut through, so we explored and found a way to Norway that didn't require backtracking.
There was nothing of interest, well, beautiful wooden toy trucks, but nothing we wanted to buy, at the furniture place. There was still a New Balance shoe outlet in downtown Norway, though it's closing this spring and moving out to the highway. There was a Western Auto which didn't have the license plate light bulbs I needed (oops! I didn't blog about being stopped by the Cumberland County Sheriff's deputy the night before, on the way back from Windham with the fire door on top of the car, for burned-out license plate lights) but did have a charcoal starter chimney. The guy sent us to WIP auto parts, I think it was, just on the edge of town, and we did get the bulbs.
Matt had his GPS along and was greatly enjoying telling us what was coming up around the next bend. We were more than ready for lunch at that point. The GPS said there was a restaurant called "The Lost Gull" ahead. The name sounded appealing to Matt, so we found it (exactly where the GPS said it would be, of course). I didn't take a picture of it, but here's its sign and the former church, now an antiques store, across the street: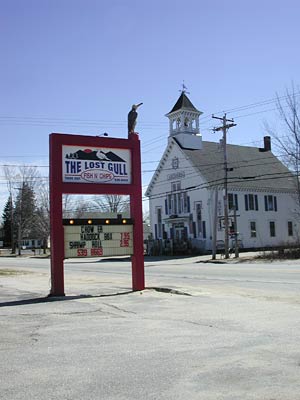 (added later:) We were back in Oxford with Charley two weekends later, and that time I did take a picture of the place: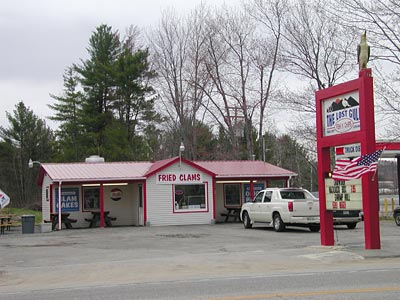 It's (as you can see) a classic New England fish and chips place. Picnic tables outside, room for a half-dozen people to stand and place their orders indoors. Not elegant dining, but just what you want when you're hungry on a beautiful spring day. We got various fried fish , sat down at a picnic table, and had our picture taken by the waitress. Left to right, Arlene, Matt, me, Anne.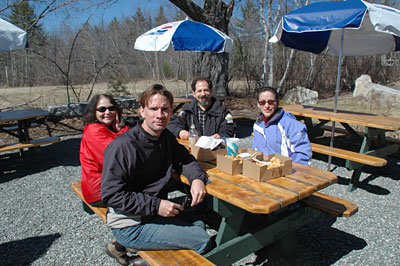 I think it was after that jaunt that we made another attempt to find our way from the conservation area on Mayberry Hill Road down to the back of our property. With the GPS we were pretty confident we wouldn't get lost, but that didn't mean we wouldn't have to pick our way around some swampy areas and stone-step over running water. Two thirds of the way back we heard voices off to the side. Who should turn up but the people who live three houses away, up the paved road on the other side of the gate, with their dogs Butkis (I guess; having just heard it, I can't be sure it's not spelled with two Ts and two Ss), Jessie, and Tawny. They were happy to have us follow them to the corner of our lot, and assured us that you really can't get lost in that area, so long as you keep walking straight or follow running water downhill. There's a beautiful brook right on their property, and a lot of the running water in those woods ends up in it. The chances are that if you follow the water you'll end up at their place. They say they never run into anyone else in the woods. Here's the picture they took of us out there in the middle of nowhere: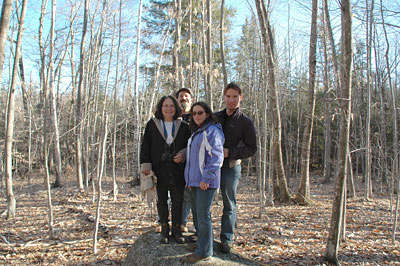 There were still apple trees to be pruned when we got back. I had done a lot of it the weekend before, but I was still at it when Matt took this picture: