Back in county fair season (the date on the photo says September 13) we went to the Oxford County fair. I saw a yarn-handling device labelled "squirrel cage swift" — think two hamster exercise wheels with a skein of yarn around the two of them. It takes up lots less space than an umbrella swift but serves the same purpose.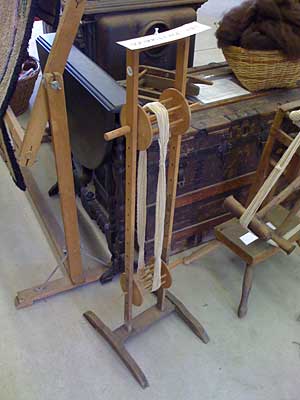 I decided to make one.
I bought some maple lumber at Lowe's in Portland a few weeks ago. Last weekend I cut out five five-inch circles (I only need four for the project, but the board was big enough for five) on my bandsaw. This weekend I put them (one at a time, natch) on the faceplate of the Jet Mini lathe, turned them down to really round, and sanded them. Here's halfway in the process, two still the bandsaw product and three looking well sanded — and I mean well sanded. I was amazed at how good they look: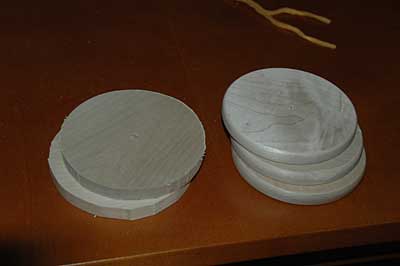 That's all for now — maybe next weekend.