Since we were going to be in Maine for all three days of the weekend, we thought it would be a good opportunity to travel a little farther around the state than we usually do. Last year we had a good time going to Pemaquid with Charley on Labor Day Weekend. Arlene looked at listings of events in the newspaper and found that there was going to be a windjammer festival in Camden; so we headed up midcoast.
Maine touring maps seem to divide the coast — and so do the residents, it seems — into the southern beaches, mid-coast, and down east. The beach part of the southern shore is mostly in York, Ogunquit, and Old Orchard Beach. That section of coast goes just past Portland to the end of Casco Bay (no relation, except linguistic, to the town of Casco.) As soon as you're past Casco Bay, say in Harpswell or Bailey's Island, you're in mid coast. That's where you start to get — well that's not fair, because the islands in Casco Bay are plenty rocky — I was saying, that's where you start to get the rockbound coast of Maine. If you look at a map you can see that ragged shoreline. The through roads are , or specifically route 1 is, twenty miles from the ocean through most of mid-coast, because there are long rocky peninsulas with long bays dug out by the glaciers between them. Mid-coast is full of small fishing and lobstering ports and is very picturesque. In my mind at least, mid-coast goes through Ellsworth and Bar Harbor. Some businesses in those towns call themselves "Down East" this or that, but I think Down East starts on the other side of Ellsworth. And there's no question how far east it goes; all the way to the New Brunswick border. Down East has tiny towns, except for Machias which is just small, and Calais, right at the border, pronounced "callus" like on your big toe, which is a small city. But in general, tourist facilities are few and far between past Bar Harbor.
We started out early but got bogged down at a couple of yard sales before we got past route 26. We got on the Maine Turnpike at Auburn and went two exits, which wasn't the most direct way — just one exit would have been better, Lewiston instead of Lisbon, but the wrong road turned out to be prettier than the quicker one so we didn't mind. We got a bottle of Moxie in Lisbon Falls or Topsham, close to I-295 anyway, and got on route 1 north before getting into downtown Brunswick.
We stopped at the Indian crafts store on route 1 (I forget if it was before or after lunch) and stopped for lunch in Damariscotta (that's pronounced dam-ris-cotta; the first syllable rhymes with 'am', not 'ham'). The restaurant (Schooner Landing?) was right on the water. We watched people going out in kayaks directly below our window. We walked along the street and into the original Reny's store, which has a picture of opening day in, I think it was, October 1949.
There's a perpetual fleamarket just off (the southbound side of, darn it) route 1 up there near Damariscotta and Wiscasset. We couldn't resist. I bought an antique jeweler's hammer and an offset screwdriver to add to my father's tool collection, and an old plane just to have the plane iron to make a dowel turning jig. By now it was getting pretty late, but Camden wasn't really an awful lot farther.
We got to Camden as the boat parade was about wrapping up. We didn't realize it was going on for a while, but looked around the parking lot where there were several exhibits set up: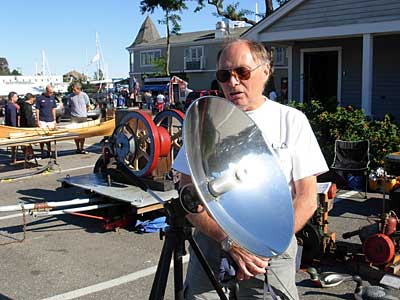 That's a solar-powered Stirling cycle engine, not doing much except spinning a wheel to show you that it can do at least that, faster or slower depending on how accurately the reflector is focusing the sun on the engine itself. The guy showing it off also had several antique gasoline engines and a sign for the Maine antique power society (or something like that) which had been a big participant at the Harrison Back to the Past event in July. He hadn't been in Harrison himself.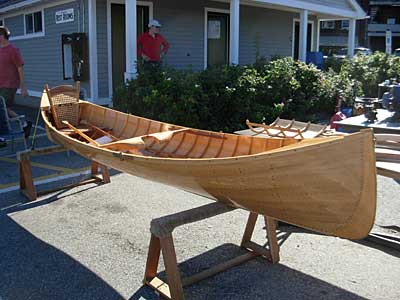 This gorgeous wooden canoe was next to a display of canoe ribs in various stages. You could see how they were cut, several at a time from a thick board, by bandsaw.
We finally caught on to what was happening and went over to the wharf to look. The harbormaster was giving a play-by-play account of the boats as they passed in review,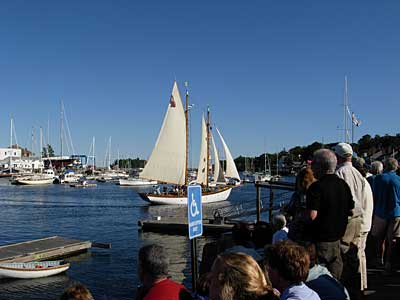 [Dean! You're supposed to look at the viewfinder and not have handicapped parking signs covering the center of interest of the picture!]  with names of the captain (and of the ship's dog, in those cases where he knew, which was a lot of cases), year the ship was built and where, type of rig for sailboats or type and size of motor for motorboats, and whatever else he felt like talking about. One that he did feel like talking about was the Headhunter, the pump-out boat that will come over and pump out your boat's sewage holding tank, gratis, paid for by the state, to keep you from polluting Penobscot Bay. Its motto is, "We don't take any crap from anybody! Except you."
There was supposed to be something of a Pirate theme to the festival. A few of the boats had crew or passengers dressed up as pirates, or pirate flags, or were just having a grand old time.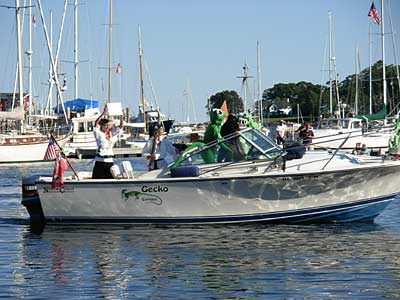 This one, the Heron, had a pirate flag —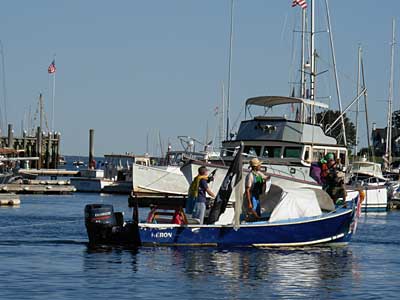 — and was towing a surfboard with kids having a Pirate sword fight.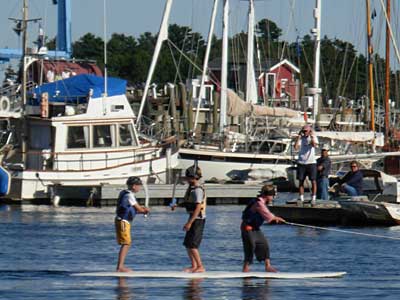 Before we started watching the parade we heard an announcement that open house hours on the schooners were now over. We walked out on the floating pier between the schooners anyway, because there was a better view there without being in the way of other spectators, and started talking to a member of the crew of schooner Nathaniel Bowditch. He said, "You're welcome to come on board," which surprised me because I thought we were too late for that, but we climbed on and looked around, including looking around the cabins below.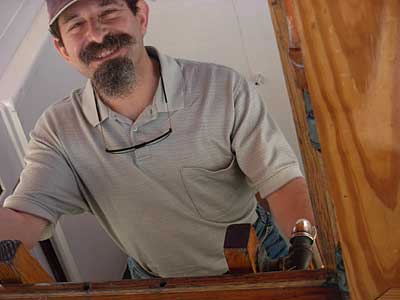 If you want to learn about using space efficiently, look around a boat. The kitchen looked just like a kitchen, with shelves with cookbooks and decorations, but in a tiny space.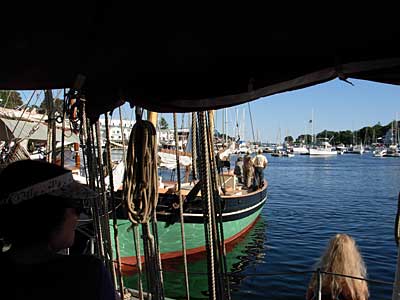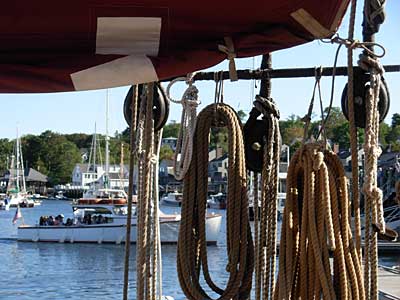 There is something of an industry doing windjammer cruises along mid-coast Maine. That schooner does two- to six-day cruises in the area. I guess that part of the point of the windjammer festival is to let potential customers see all the boats they might be considering a trip on.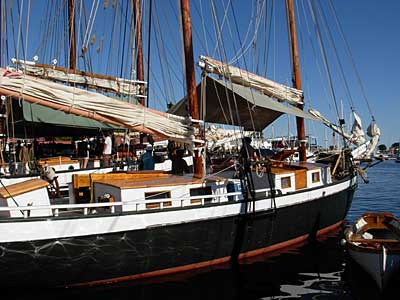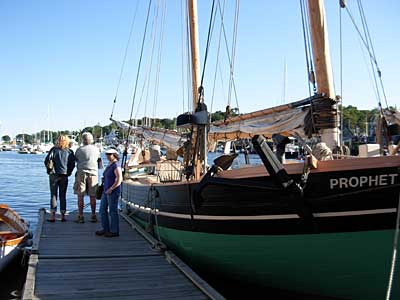 After walking around Camden and finding ourselves some ice cream there, we drove a few more miles up the shore of Penobscot Bay to Lincolnville. (Google Map it. Amazingly, they have a street view from downtown
Lincolnville. Did they do street views all along US 1?)
These boats off Lincolnville beach look to me like typical Maine lobster boats, with a cabin open on one side and lots of open deck at the rear for piling up lobster traps.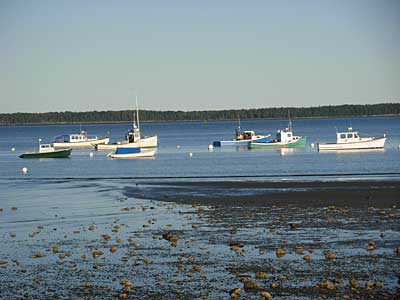 We walked on the beach (a gravel beach, not fine sand at all) and looked at the barnacles and periwinkles.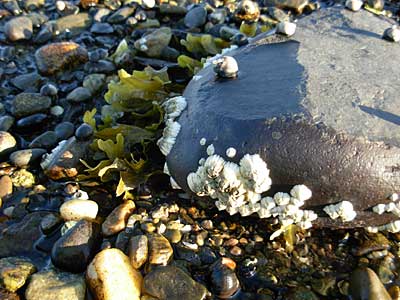 We found our way home through Augusta and Gardiner. The first part of the road inland from Camden on route 17 was very scenic, going along a couple of lakes with big hills right behind them. I was driving, so took no pictures; also, it was starting to get dark. Closer to Augusta, we realized that we were on the same road that we've taken to and from the Fiber Frolic at the Windsor fairgrounds. I was very pleased to feel that we're beginning to be familiar with some of the major secondary roads in the state.
Between getting aboard the schooner, seeing the boat parade, and getting down to the beach, it was a totally satisfactory day trip to the coast.