Last weekend, I mean March 21-22, I started a short sleeve shirt out of some of the least expensive yardage I've bought off the bolt in years, indigo cotton called "homespun" from the Windham Wal-Mart. We bought four yards of it when we bought four yards of black "Cotton Club" there for Arlene's discharge printing class. I think the cotton club was $2.77 a yard and the homespun was 2.24. Whatever, it was ridiculously inexpensive. I'm figuring on discharge printing on the shirt with adinkra stamps. I practiced discharge stamping on scrap of that fabric last Wednesday evening. It doesn't look too bad, at least some of it doesn't look too bad. I tried Soft Scrub on an uninked ink pad, Soft Scrub padded on from a paper towel, Soft Scrub painted on the stamp with a small brush, and bleach diluted two to one with water on the uninked stamp pad. The impressions from bleach on a stamp pad were the sharpest, but not so clear as the ones from the Soft Scrub applied to the stamp with a brush. It needs more practice before I start stamping on the shirt itself, which has the fronts, yokes, and back all together. That's all I want together before I start printing. I'll leave the sleeves and collar solid indigo and put them on after I've discharged the part that will have pattern.
Hah! The first Stitch and Release shirt is all fished.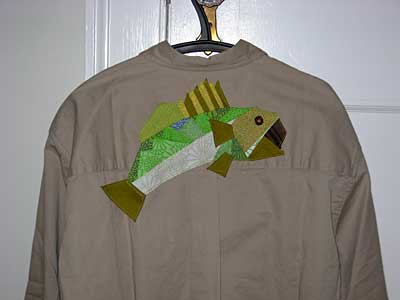 I didn't mean "finished" because I'm still thinking of writing "Stitch and Release" and putting it somewhere like a brand name on that. I'll have to learn how to machine embroider first. It may be a while, or never. The shirt was on deep markdown at Reny's, I think $5 for an undistinguished but just fine shirt. I have one or two blue work shirts that would be improved by applique fish also.
This fish has its tail and fins flapping in the breeze. I probably should have made them two sided, with raw edges caught in the middle, but I just turned the edges over and stitched the hems down. Most of that fabric is remnant Marimekko from the Crate and Barrel outlet in Kittery.
Also from the Crate and Barrel outlet remnant barrel — they sell pieces of Marimekko by the pound, material that Crate and Barrel has used in store displays — is another shirt which I started yesterday and got up to the point that the indigo one is. It's the same silk screen as the one which is most of the fish, that sort of flower-petal pointillistic pattern, but in gray-blue with a bright blue patch pocket and orange to pumpkin yoke.
The trouble with that remnant fabric is that it used to be stapled to displays. You have to work around staple holes, so there's not nearly as much fabric as it looks at first; or, of course, you can just shrug and fuse a little patch of interfacing behind the holes you missed when you cut out the pieces. Since you're getting it for about 1/20 the original price off the bolt, it's worth the annoyance.
If you're keeping track (and really, I know perfectly well that I'm the only one keeping track) I still have two unfinished short sleeve shirts that I started at least five years ago. They're both a little farther along than either of these two new ones, but I'll probably finish these first, just because I have some momentum and enthusiasm going on these, and they're different from anything else I have.