Arlene asked me to come over to the JCC this evening to help out with a class she was teaching for a group of special needs teenagers. The project was to make matzah covers by discharge printing on some black fabric we had bought at Walmart last weekend. We'll sew those printed blocks onto black cloth napkins. The original idea was to discharge print the napkins, but they turned out to be colorfast. Um, if you're a little puzzled about all that, the idea of discharge printing is that you remove color, rather than printing color onto a light background, by printing with bleach. Rather than liquid bleach, which is stronger than you want to work with, harder on your hands than you want to be involved with, and hard to tell where it is on the printing plate, you use SoftScrub cleanser with bleach. That's not so concentrated that it will burn a hole in the fabric or your hands, shows up on your stamp or printing plate or leaf that you're printing, and is thick enough that it stays put where you brush it on the plate.
The kids turned out to have a wide range of abilities. The prints, naturally, reflect that. I was impressed by how well prepared Arlene was. I had helped cut out the fabric, so I knew about that; but in addition, there were pieces of paper the right size to block off areas to print "matzah" after the kids had printed leaves around the outside; several pieces of paper taped to the front of the room with step-by-step directions for the project; trash bags taped to the table; and of course all the materials. She figured that since I'm moderately familiar with the process, I could be of more help than the adults who work with those kids.
Right now the prints are hanging up to dry.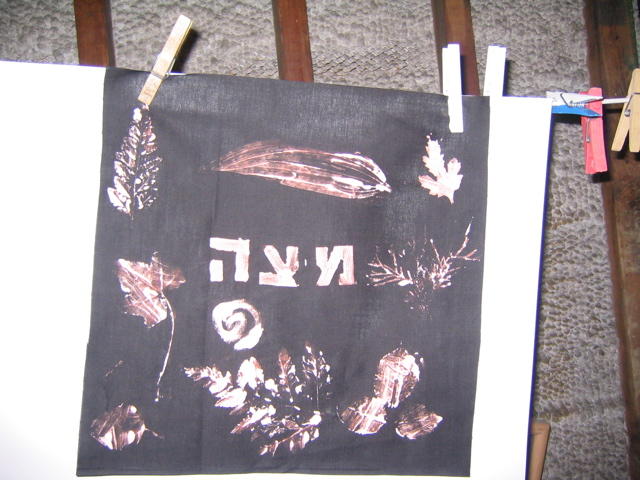 They need to be washed to rinse out the Soft Scrub that we printed with, then ironed and appliqued onto the napkins.