I've got rid of a little stash yarn in the last couple of weeks —
This cap was the Queensland Collection Kathmandu merino-silk-cashmere DK yarn I got at Fabric Place the first time we stopped there after they announced that they were going out of business. It was 132 sts on size 7 circs, all K2P2 until the decreases, and came out a little loose but very light and comfortable.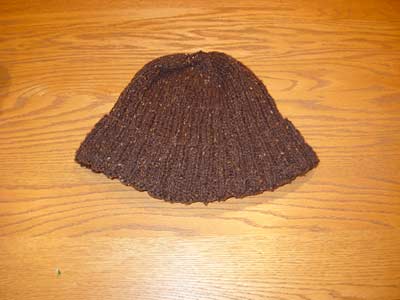 This scarf is 35 stitches, mistake rib pattern, on homemade 3/16″ wooden needles, in alpaca yarn that I got from the farmer at the Denmark sheepfest this past spring. I started it for airplane knitting on the way to Salt Lake ten days before Thanksgiving. It may turn into a UFO, or maybe I'll keep going on it. It feels good, anyway. Yes, that's a photo of the alpacas themselves on the ball band.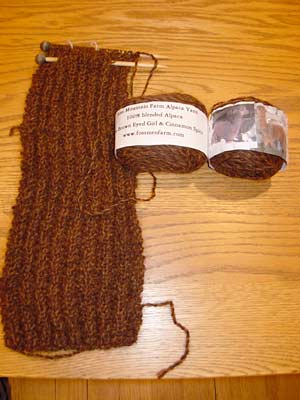 This is the start of another watch cap which is finished by now (as of Dec. 2, to be exact.) The color is a little washed out by the flash; it's really a much richer range of greens and browns. The yarn came from the Maine Fiber Frolic, but I don't know who the vendor was. I had exactly this project, a camouflage-color watch cap, in mind when I got the yarn. It's 112 sts on the same size 7 circ needle (which, incidently, originally belonged to my late mother-in-law) as the cap in the first picture above. The yarn is heavier than that yarn, so the cap is firmer and warmer than the other as well as fitting tighter. But I was afraid of running out of yarn and started to decrease about four rounds sooner than I wish I had. There's enough more yarn that I could rip it back and add a few rounds — maybe, but maybe I'll settle for it like this.