Today we drove up to Augusta for the Maine Quilts 2008 show at the Augusta Civic Center. It turned out to be one of the biggest events we've been to in Maine, other than the Fryeburg Fair, but even so it wasn't crowded and there was plenty of opportunity to talk with vendors and show volunteers, to try out high-tech sewing machines, and get good looks at all the quilts.
I have enough trouble getting the tension right on our sewing machine that I don't really want to have to keep one of these computer-controlled babies going, but it was fun to try one out. It was a relatively low-end Bernina, maybe $2400 on show special rather than the MSRP 3600, that would sew in any direction that you chose to pull the facric. It senses how fast you're moving the fabric and keeps the stitches a uniform length! And that's not even one of the expensive quilting machines! I tried, with pretty good success, to stitch around the edges of some leaves in the print of the fabric. In an adjacent booth was a sewing machine automatically stitching a picture someone had just taken with a digital camera. I didn't know things like either of those machines existed.
Mostly we looked at, and of course bought, gorgeous fabric. With a little luck some of it will turn into shirts and a vest. If so, of course, I'll keep you posted.
There were a few men at the show, probably more than half a dozen but maybe not more than a dozen. I'd guess that was about 3% of the attendees.
Most of the vendors were from northern New England, but there were booths from New York, New Jersey, Michigan, and even one from Davis, California. One booth we spent a lot of time at (and bought enough fabric for a long-sleeved shirt, and Ronke Luke-Boone'sbook African Fabrics) was African Fabric Lady of Hancock, ME.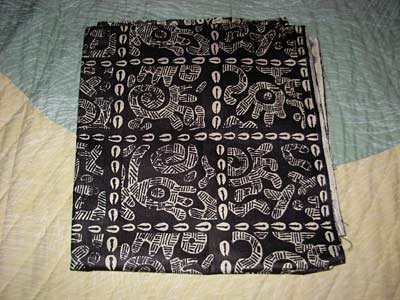 Another booth, Studio 55 of Stormville NY, had gorgeous batiks. I got a package of ten fat eights (that's an eighth of a yard worth of fabric, but more like a quarter of a yard long half the width of the fabric on the bolt, so you have a more useful shape of fabric than an eight of a yard the full width) of earth tone linear batiks plus a couple of half-yard pieces that match one of the fabrics in the assortment,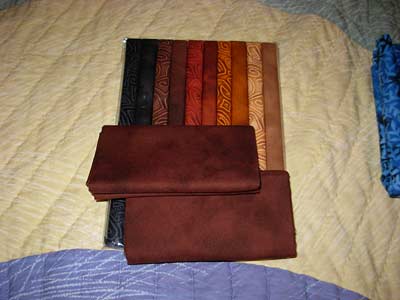 so I should have enough to piece together a vest. Then from Fabritique of Wayland MA we got one yard of a blue batik fabric 108 inches wide, which should be plenty for another shirt, especially after I added a fat quarter of navy batik which should be good for at least a collar band if not also a collar and pocket.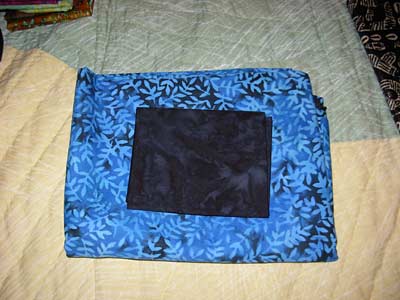 Oh, and also two pieces of Hmong stitchery. And five other little pieces in greens and blues that might end up being a pieced fish to go on the back of a denim shirt,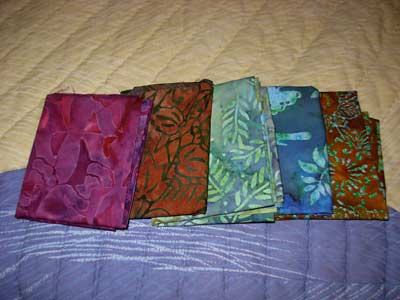 or that's my fantasy for them anyway. And at the artist's booth Arlene got a pieced pansy flower done by Cindy Heyse-David of Strong, ME.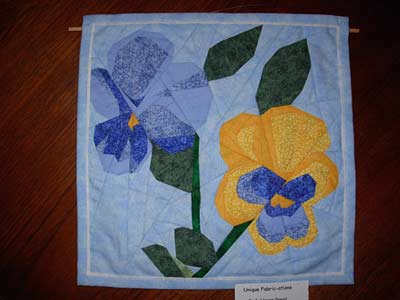 That's the closest to quilting I have a picture of for you.
And somewhere we picked up Westminster Quilting and Patchwork book 2, which includes lots of Kaffe Fasset designs. I'm sorry to say that when it comes to spending money on fabric, Arlene and I are co-enablers.
Perhaps the highlight of the whole thing for me was when a woman shopping at the Studio 55 booth looked at me and said, "Don't you go to Narramissic?" I recognized her, and in a couple of seconds had her name — Linda Whiting, she's a hand dyer and tapestry artist whom Julia often mentions with great admiration. Arlene later said, "there aren't that many men that interested in fiber arts, any you don't look like anyone else," but I was still very pleased that she remembered me, and that I can occasionally run into someone I know. And, she was about to buy the same assortment of earth tone fat eighths that I had got, so maybe we're some kind of kindred spirits at that.