At some point when I looked up the kitchen window feeders were covered with redpolls — two on this one, three on that one, two more flying around looking for a space. There were more in the apple tree right outside the window, more on the ground, and more on the other feeder – Arlene estimated four dozen total, and that sounds about right to me. Then they flew away, and we haven't seen any the rest of the day.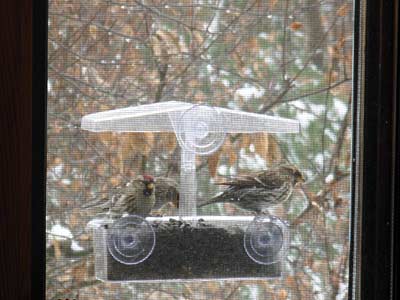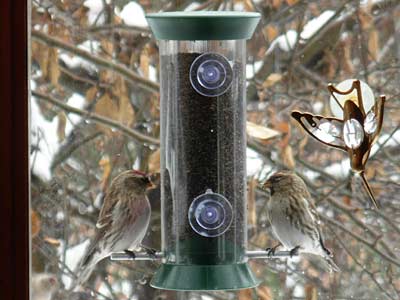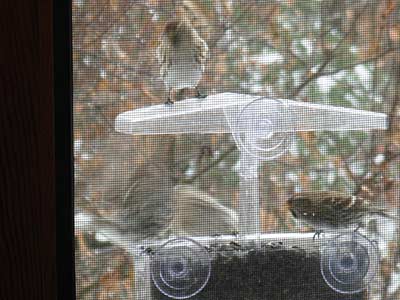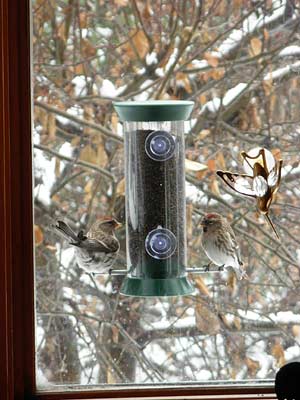 Midafternoon, I saw some movement in the driveway out of the corner of my eye. Sure! The ruffed grouse was picking its way across. There are no crabapples on the bottom branches of the tree; guess the grouse has gone for the low-hanging fruit first. I watched it in binoculars. With them, you could count the feathers in the ruff if you wanted. Unlike the pine grosbeaks (not here today!) which take a while to eat each crabapple, the grouse picked off crabapples and chewed them whole.
Just before sunset (which this time of year is not much different from midafternoon) I walked around the place on snowshoes. Opposite the little clearing at the far side of the property which we call "the patio" I heard a tap, tap, tap tap tap. Woodpecker? I looked up that direction and saw a big bird with black and white wings flying a few trees farther than it had been. A Pileated! We haven't seen one of those since the spring.
So, pretty good bird day!