We went to New Jersey last weekend to an 80th birthday party for Arlene's mother's second cousin Elizabeth. Elizabeth and her sister have been vegetarians since they were kids. Their father ran a vegetarian hotel in Florida long long ago but died before the girls were college age. Elizabeth's sister Becky lived with Arlene's mother's family after that, which is why they both were much closer to this side of the family than you would expect from second cousins. I guess Arlene's mother was in college or maybe already married by the time Becky moved in with the family, but her aunt Lee was still living at home. Lee came in from Buffalo for the party over the weekend, which was an extra big motivation for Arlene to go. Left to right, Arlene, Lee's son Neil, his wife Olga, and Lee: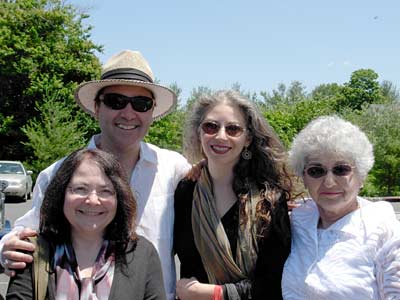 Another part of it was that Arlene couldn't figure out when else she would ever see Liz's and Becky's kids, her third cousins, if she didn't go.Here's one of the cousins. Maybe you've heard his by-line on NPR, "For NPR, this is Bruce Konviser in Prague":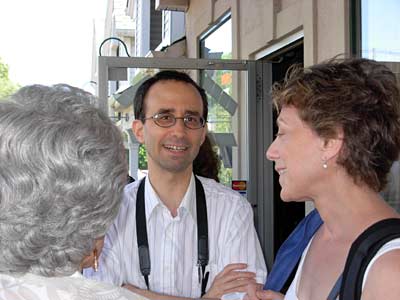 The party was at an Afghan restaurant, Silk Road, in a mini-mall in Warren NJ.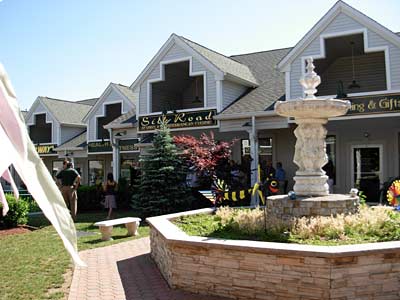 The food was wonderful, the best stuffed grape leaves I've ever had, hot bread fresh out of the oven, and delicious vegetarian entrees and rice.
Instead of singing "Happy Birthday to You", Liz's kids who had arranged the event passed out music to a four part round composed as a birthday song, with words they had written for Elizabeth. We rehearsed it while Liz was in the rest room and sung it as a two-part round when she got back.