Up in Bridgton last weekend it was Mushers' Bowl. That's like superbowl, but it's about dogsled racing and it's a smaller scale event. By about a factor of 1000.
We were disappointed that the dogsled racing was cancelled last year because of lack of snow. This year it was postponed from the original date to last weekend, and there was just about enough snow by then.
Besides dogsled racing, there was an event called skijoring. It's racing on cross-country skis with a dog pulling you, sort of a cross between cross-country ski racing and dogsled racing. On the uphill parts, I guess the human part of the team does a lot of the work. On the flat and downhill, the dog is probably running faster than you could ski. My favorite picture from the event is this one of a skijoring competitor. I was panning the camera about right to get a nice blurred background. You can just about see the dog's legs way off on the right.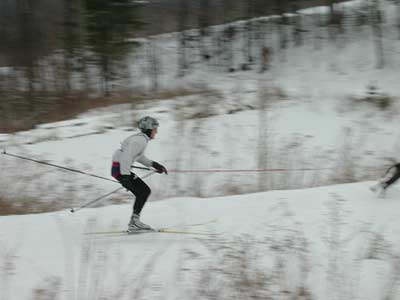 There were competitors from far away. I overheard someone pointing out a truck that had come from Alaska. Clearly it wasn't just for this one race; this must be part of the whole dogsled racing circuit.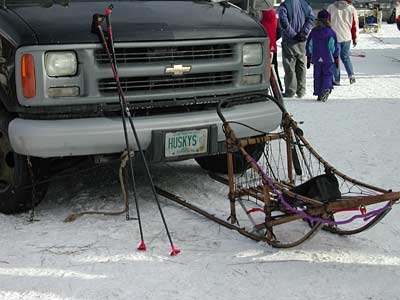 The races were run the way olympic skiing events are, that is, with entrants starting at intervals, each timed separately. It takes a little organization to get a dog team set to go — you have to get all the dogs on the correct side of their harnesses, and keep them from getting tangled up before they start.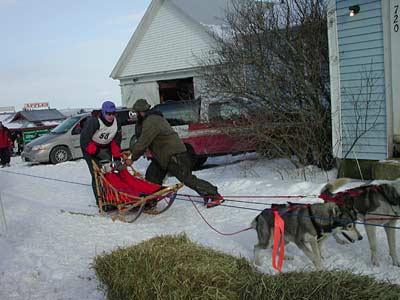 The starter gives a 30 second warning, then announces 20 and 10 seconds, then counts 5, 4, 3, 2, 1, go!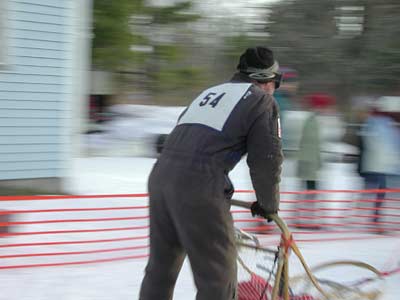 Did you know that the musher stands on the rear runners of the sled? The body of the sled is basically for gear, not for riding on.
How did I get so close to the action? It wasn't hard. Here's how big the crowd was: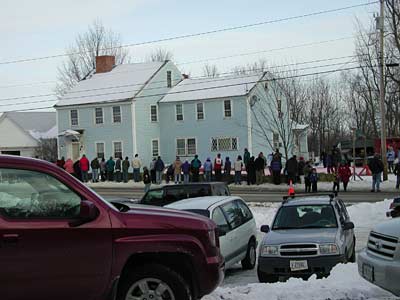 There were several separate races, for the pros and amateurs, skijoring, and kids one-dog dogsled races. The main races were over a course a couple of miles long. The kids race was perhaps 200 yards, but included a hill that was challenging for some of the dogs.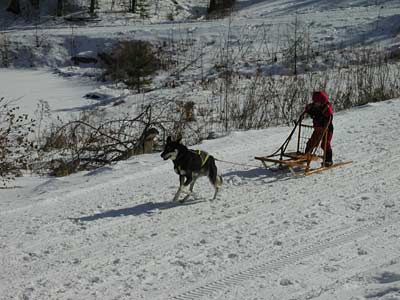 … and as we were watching, every so often a truck of pulpwood would go by. They were paying attention to the crowd, but you didn't want to slip with this a few feet behind you.