It was a rainy Christmas day on Hilton Head. There's always a lot of time discussing what we want to do, what and when we're going to eat, and so on. I try to keep out of it because I'd rather be doing something than talking about it. In the rain there wasn't much to do outside, though, and of course nothing was open. Joel drove us all around our corner of the island, just to see a little. The rain let up late in the day and we walked on the beach starting at Coligny Circle. It's a very wide, gently sloping beach with sand packed so firm that you can easily ride a bicycle on it. On most of the New England beaches I know, it's a real effort to walk from the parking lot through soft sand down to the water. Here, there were only a few yards of soft sand before you got to the firm part.
The palmetto-covered dunes look very different from the northeast shore, too.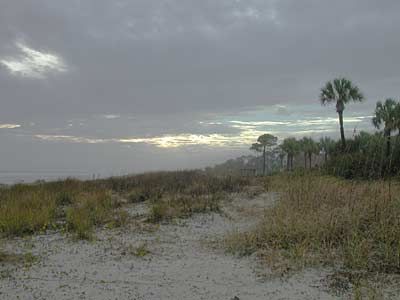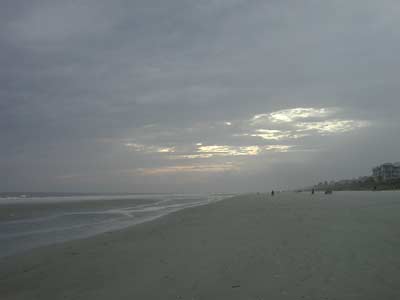 We saw two piping plovers, as well as many small sandpipers. There really were quite a few people out on the beach. I had to be selective in snapping pictures to get this one that makes the beach look somewhat deserted.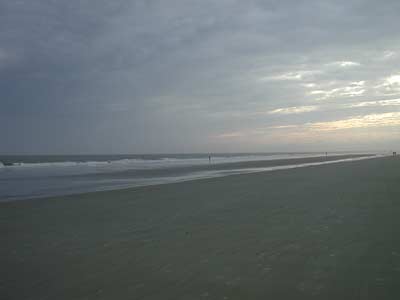 Millie wanted to show us a place where they usually see pelicans, a Disney resort at Shelter Cove. We walked in, didn't see pelicans, but did learn about crabbing from some people who had dropped a double-ring crab net, baited with a piece of shrimp, off a dock. They didn't seem to be having any luck, maybe because it was the wrong part of the tide cycle. We did see a beautiful sunset from that dock, though. The smudges aren't smudges, they're clouds that are already in shadow while the higher ones are sunlit.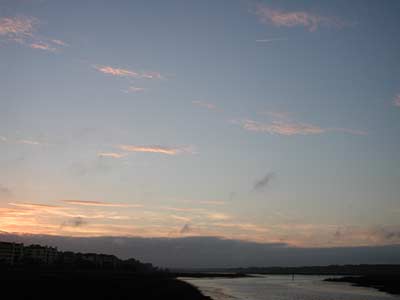 After supper we watched "The Devil Wears Prada" on DVD.