We were in LA, or really L/A, which in central Maine is Lewiston/Auburn, the twin cities of Androscoggin County, on Saturday for a balloon festival.
Hot air balloons are like fireworks. You have to be there to appreciate the scale. But of course I have pictures.
Lewiston is the second biggest city in Maine, with a population around 36000. Add Auburn and you have almost 60000, still only 3/4 as much as Newton. There are some huge old mill buildings which used to run on water power from the falls of the Androscoggin River. The mills look too big for a city of that size, so I bet there were more people living there 80 years ago.
The balloon festival grounds, Railroad Park, along the river, looked like most fairgrounds, with lots of tents. Businesses were displaying lawn tractors and hawking waterless cookware sets.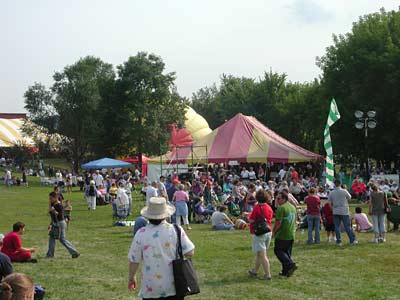 When you get a balloon as a souvenier at a balloon festival, it's a miniature model of a balloon with a basket: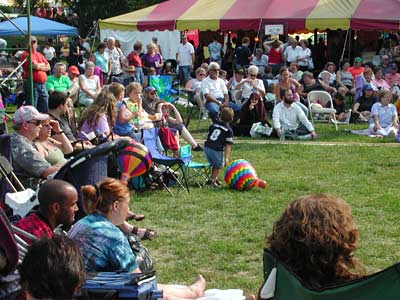 There were musical performances all day. We heard a group of Metis, mixed ancestry Native American and French Canadians, singing and drumming. To my untutored ears it sounded just like the powwow last weekend, and there was a whiff of the same sage smudge too.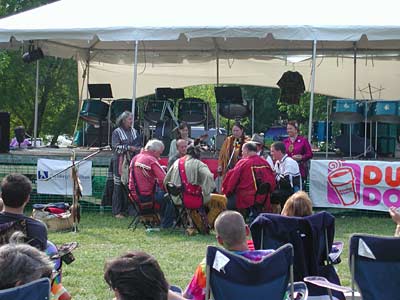 We walked around the grounds, across the river on a footbridge, and back on a riverside path on the Auburn side of the river. On that side a band was playing at a festival plaza where there was a lovely fountain with sheets of water that seemed to be inspired by the waterfalls of the Androscoggin. Arlene enjoyed standing in the spray.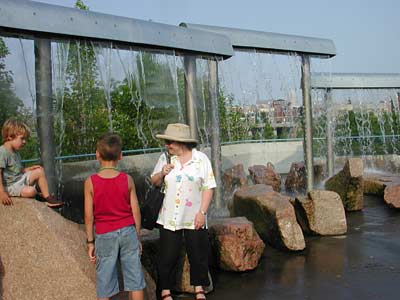 We walked across another bridge back to the Lewiston side. An osprey was hunting near the falls. I didn't get a picture of it, but it's a good sign for the recovery of both the formerly endangered ospreys and the formerly terribly polluted Androscoggin. The helicopter was doing sightseeing rides as part of the festival.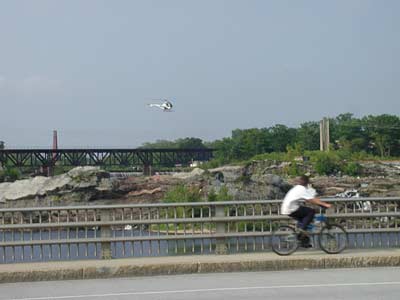 — balloon pictures proper will be in another post