On the 12th we all went to the Maine Wildlife Park in Gray for a native american powwow. It was much smaller than the Fort Hall Shoshone-Bannock festival — my mom said, "Do you think ours is ten times this big?" I do think there are more than ten times as many people dancing at the Sho-Ban festival as there were in Gray, but more like five times as many vendor booths. Of course, this was Eastern woodlands culture, not intermountain west, so the overall scene was very different from Fort Hall. Maybe because the area was smaller, maybe because the fire danger was low, there was lots of sage smudge in the air. We bought some deerskin from a vendor, but no completed craft items.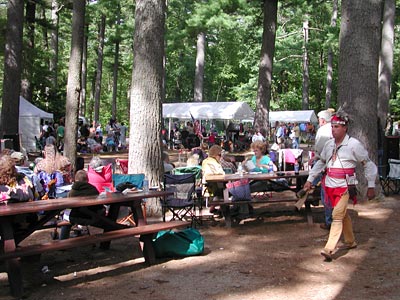 Three people, wildlife park staff and volunteers were walking around with birds on their shoulders — an eagle, a young great horned owl, and a raven.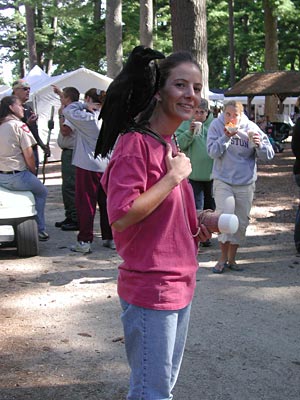 This woman had raised the raven (its name is Hagrid, but she doesn't really know if it's male or female) herself. You don't want to see the back of her T-shirt; it would constitute too much information about raven hygiene.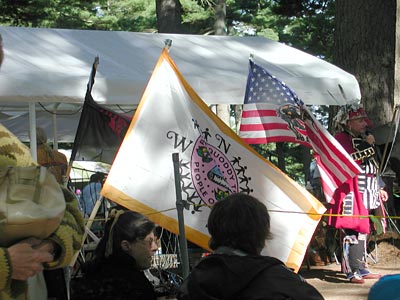 The Passamaquoddy tribe, People of the Dawn, from the easternmost part of the U.S., were pretty much in charge. I don't know how much Abenaki presence there was. I haven't been studying either of those languages lately, so I wouldn't have been able to say anything.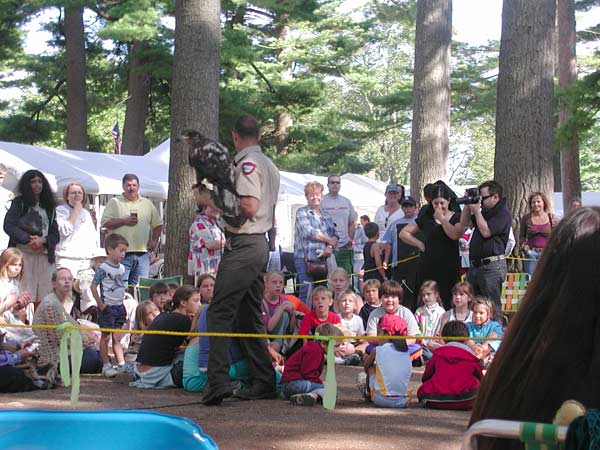 That's Charley in black with a camera to the right of the man with the eagle, Nicole in a black dress next to him, and Emma in front of Nicole (she's not the kid in the tank top). Charley got a much better picture of the eagle than I did. You'd hope so — firstly, he's a pro; secondly, he has a better camera than I do; thirdly, he takes twenty pictures to my one.
Emma joined a candy dance for kids, something like musical chairs but the idea was on some cue you could pick up as much candy as you wanted so long as you got out of the ring by the next cue, else you had to put the candy back. She didn't get any, and was in danger of being run over by more experienced kids who were in a hurry to get out of the ring in time.