On Saturday (4/15) we went to the Denmark Sheepfest. It's a small-scale event, as you would expect in as small a town as Denmark, Maine. The feeling was very different from the Gore Place sheep shearing event we went to last year. That one is more, "Well, Gore Place has a few sheep, and they have to be shorn, so we may as well make a big deal of it so city kids who never see a sheep can learn something." The Denmark event is, "A lot of people around here have sheep to be shorn, so if we get together and publicize it, we can have some fun and maybe pull a few tourists in." People seemed to be pitching in cleaning ("skirting") the edges of the fleece; girl scouts or 4-H kids were selling food; and trucks with a couple of sheep in them were pulling up and driving off all the time.
I watched several sheep being shorn, start to finish. It was pretty surprising. First, the wool isn't the same color all the way down. White sheep, I guess so, but the ones getting their haircuts while I was watching happened to be brown on the outside. That's just bleached out from the sun. The wool might be black, grey, or even white when you looked at the fleece from the skin side. Or all of the above on the same animal. One of the sheep had mostly grey wool (from the skin side) but there was one area, where someone said the sheep had once been injured, that was dark black. I wondered if black sheep turn grey when they get older, like people's hair. I don't know. Secondly, a sheep is a lot smaller when it's shorn than when it has its winter coat of wool on. It's almost like the difference between a chicken with and without feathers. It's not just the way it looks, either. The fleeces were weighing in around eight to eleven pounds. The sheep were probably not more than eighty pounds, and some more like forty. That's eight to fifteen percent wool! With all the difference in size between the wooly and shorn animal, I admired the shearer's ability to keep track of where the animal, as opposed to the wool, was.
Inside the Denmark Arts Center were vendors. As a crafts sale vendor myself, I'd say inside were a few more vendors than the space could really hold. I would have spent an hour more there looking around if we hadn't been with Jared, David, Rachael, Millie, and Joel. As it was I got to say hello to Linda Whiting of Pinestar Yarns, Julia's dyeing workshop leader; learn how to use a triangle frame loom (but I haven't made one yet. Maybe next weekend? Probably not that soon) and buy two hanks of yarn: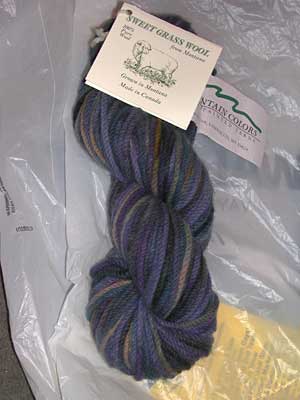 This is from Montana, hand painted, bulky three-ply yarn. I'm thinking a hat on number 11s or 13s. It felt funny to buy yarn from Montana in Maine. At least it starts with M. But I couldn't resist the color and feel.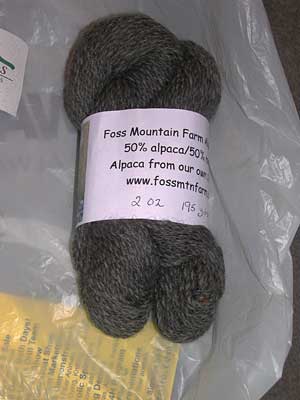 This is more or less local, from Foss Mountain Farm in New Hampshire. The alpacas were there in Denmark, looking exceptionally cute and friendly. The first couple of yards of this will be just right, in color, weight, and fiber content, for a repair to the sweater that Charley got in Peru. After that, I don't know. Maybe a scarf.